ABOUT BABYLON

BABYLON is an audiovisual development programme assisting filmmakers of culturally diverse origin to break through into the international mainstream, with a particular interest in migrant and diasporic stories.
Frequently unrecognized, the stories that emerge from undiscovered talents of "double culture" provide the richest untapped source of storytelling across the world.
BABYLON provides a space in which these emerging filmmakers can speak to each other and to the widest international audience, providing access and inclusion.
---
BABYLON Annual Programme 2014-15

Babylon will shortly open its programme for the coming year 2014-15, again with feature film development workshops in London, Vienna and Cannes.
For more information about selected 2013-14 projects, participants and feedback on the London Workshop in October 2013 see links below.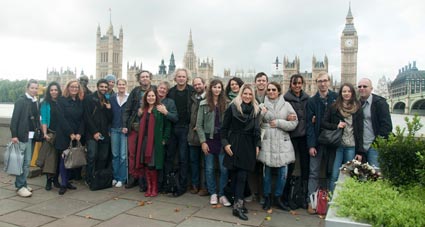 BABYLON offers project-based training for teams of feature film Writers, Directors and Producers, aimed at preparing their projects for the international market.
The programme focuses on a combination of script development, production skills and market understanding, balancing intensive residential workshops with continuous mentoring by senior industry consultants.
Babylon's aim is to to build a successful and diverse pool of film storytelling and talent; to promote and strengthen cultural diversity within the independent film sector, and to provide an international platform for emerging filmmakers.
During 2013-14, BABYLON welcomed 22 participants and 14 projects to its annual programme, with workshops in London (16-19 October), Vienna (22-23 February), and at Cannes Market 16-19 May, complemented by online mentoring throughout.
Click here for selected 2013-14 projects
BABYLON is produced and run by founders Scenario Films (UK). Babylon 2013-14 funding partners were MFG-Baden-Wuerttemberg (Germany), Filmfonds Wien (Austria), HAVC (Croatia) and Scenario Films Ltd, with Creative Skillset International Scholarship support to our UK participants.

BABYLON INTERNATIONAL is a venture forging industrial and creative links between Europe with other continents.
In 2011 BABYLON INTERNATIONAL brought together 17 European and African filmmakers in a joint script development workshop in Berlin (May 2011) and production lab in Abuja, Nigeria (September 2011) where trailers for the features were shot and edited for presentation at the Abuja Film Festival.
BABYLON INTERNATIONAL is run by a three-sided partnership of independent producers Script House (Berlin), Scenario Films (London) and Cine-Sud Promotion (Paris). The funding partners are the European Unions MEDIA Mundus and the Nigerian Film Corporation.
Click here for more details about the selected 2011 projects


Scenario Films, UK /Witcraft,Austria